Visit to Gettysburg for the Holidays
Posted by Walt Wensel on Wednesday, November 11, 2020 at 1:42 PM
By Walt Wensel / November 11, 2020
Comment
Ginny Davis is the Community Welcome representative for Adams County. She continues to highlight establishments in the Gettysburg area for your dining pleasure when you are visiting the new Amblebrook community. Feel free to contact Ginny with any questions about the Gettysburg area. Her contact information is [email protected].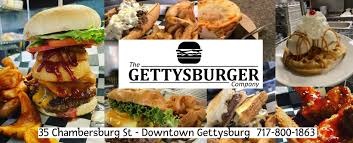 If you feel like having a good burger or other pub style food, I'd recommend trying the Gettysburger Company at 35 Chambersburg St. in downtown Gettysburg. Getting a 4.5 star rating from TripAdvisor, this restaurant has the most unusual burger selection. Their unique topping combos make getting a hamburger extra special. For example, their Belly Buster burger comes with 2 burgers topped with BBQ pulled pork. A favorite this time of year is the Apple Burger with thin sliced apples topped with a light caramel sauce. And if you like seafood, try the Crabby burger. All of these sandwiches are served with fresh cut fries. Not a burger fan – no worries! Their menu also features salads such as the Berry Nutty Salad and fresh soups. Make sure you leave room for their desserts. One of my favorites is their apple dumplings. Enjoy indoor or outdoor seating and the restaurant offers a full bar.
After you finish your lunch at the Gettysburger, walk a few steps down the street and you'' find the tasting room and wine shop for the oldest winery in Adams County. Crafting wines since 1975, the Adams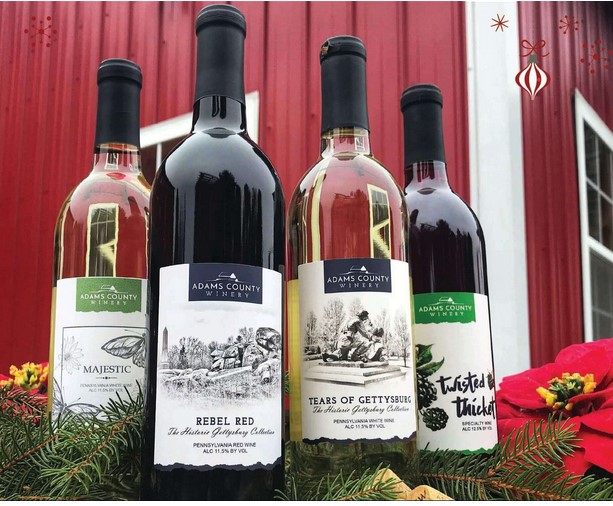 County Winery has a wide range of wines for you to choose from including some favorites -Rebel Red, Tears of Gettysburg, and Stray Cat Street. Boasting 2 locations, Adams County Winery has the tasting room at 25 Chambersburg St. in Gettysburg and their farm winery located about 8 miles west of Gettysburg at 251 Peach Tree Road Ortanna. There you will enjoy complimentary wine tastings, beautiful gardens during the warmer months, and lush vineyards. You can also see how the wine is made on the premise. Enjoy wood fired cuisine from the Terrace Bistro. The Farm winery and the Wine shop are open 7 days a week.